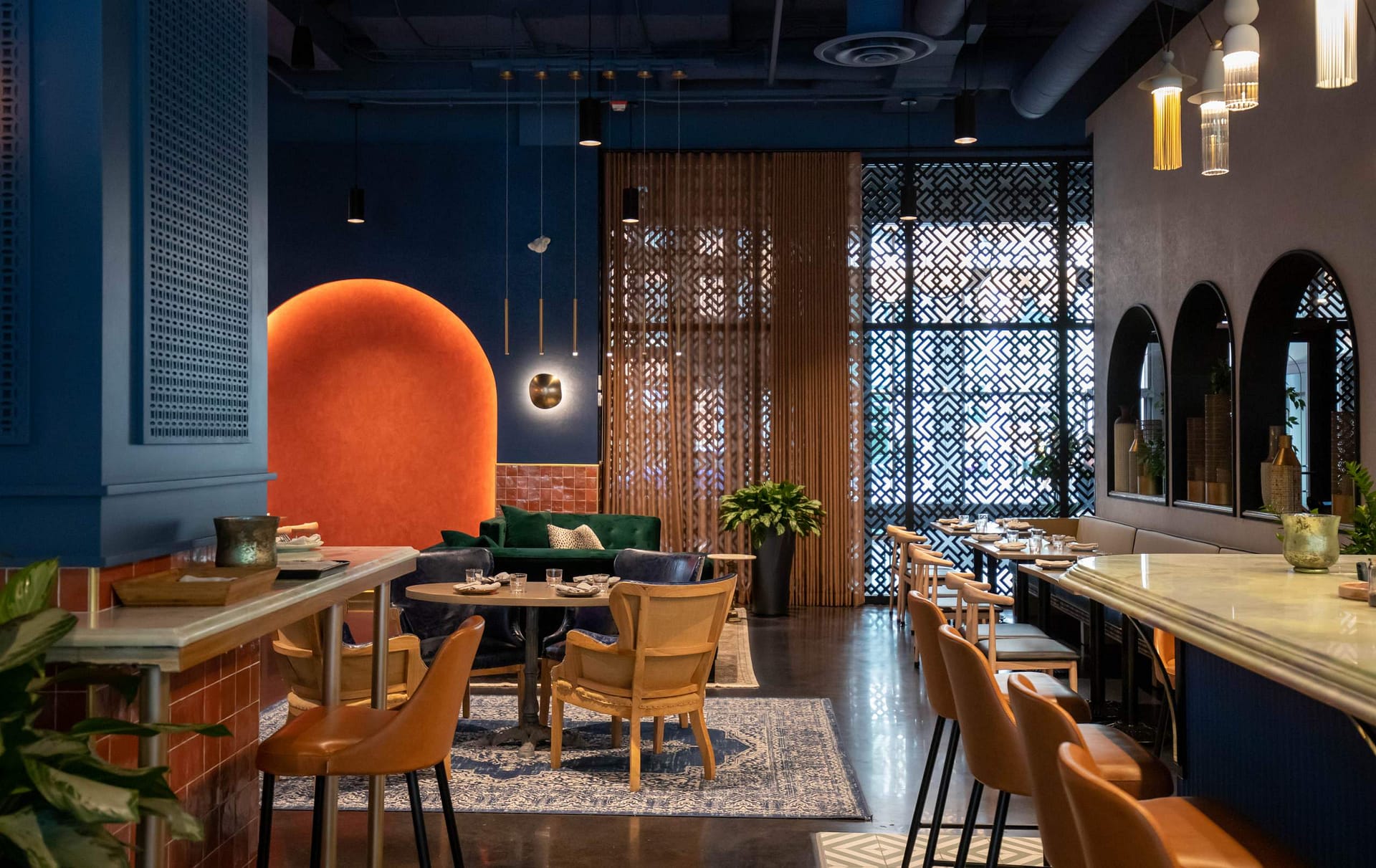 Luxurious Restaurant Interior Design inspired by Mediterranean travel
Words & Edit by Natalia Rudakova
Interior Design by Amanda Hamilton
Lead Interior Designer: Sarah Peters
Video Production by Ollimono Media
Photography by Niko Karle
Object: Kama Restaurant
Restaurants Location: Calgary, Alberta, Canada
Video Publication Channels: YouTube, Instagram, Tiktok
In conversation with Amanda Hamilton, the CEO of Amanda Hamilton Interior Design Studio
Q: Please introduce yourself in relation to the project.
A: I am Amanda Hamilton and I am the CEO and founder of Amanda Hamilton Interior Design.
Q: What is the property location?
A: We are sitting in Kama restaurant which is located in Calgary, Alberta, Canada, the Beltline neighbourhood, which is adjacent to Victoria Park, another really lively neighbourhood. Lot's of restaurants around here.
Q: What was the general brief/idea from the client?
A: The client's trips to the Moroccan marketplaces and the Mediterranean region served as significant sources of inspiration. As a result, there is a play on Mediterranean color schemes in the decor, lighting, and numerous other subtle details. In addition, he strongly requested an open concept kitchen and a bar with a central U form. That was a challenging job because we didn't want the space to resemble or feel like a cafeteria but rather a cosy, intimate restaurant that transports you away from the bustling downtown Calgary and into the middle of a Moroccan bazaar or a Spanish tapas bar.
One of the interesting facts of this restaurant interior design project is also how the chef was able to include some of the furniture, neon signs, and other relics from his prior restaurant, which he had collected over the years. Consequently, it makes a passing reference to his former restaurant. Which I have always adored, and again, it's the story component; it's also, in my opinion, a component that gives him the impression that he is still at home. So in a sense, you continue the legacy of earlier efforts in a new setting. And I think we've done that pretty well here; you wouldn't realize that these items had previously been in another restaurant.
Q: Describe the design process.
A: A design discovery meeting, during which we spend two to three hours getting to know our client in-depth, is the first step in our design process. Before discussing the design, we want to know what keeps them up at night and what will make the project successful. This kind of marriage of form and function always takes place. We want to discuss how this will work in detail. I often say that anyone can create a beautiful space, like any designer can, but not everyone can create a beautiful space that is both aesthetically pleasing and functional. Additionally, it will endure, remain a part of the community, and in some ways leave a legacy project. We begin the design process from there. When we have all of that shaped, we go back to the client and offer them with an idea. We really want our clients to understand that we were paying attention, that this is what we heard, and that this is sort of the idea we want to put forward. If all goes well, we'll start working on the design. That's when we truly begin to consider those particulars. How can we use a Moroccan market as an example and draw colour from it to make something appear truly authentic? Because of this, each and every item in the restaurant interior design has a backstory, a purpose, and was thoughtfully chosen. Not only are we aiming to create a beautiful setting, but we also genuinely want to reflect that initial idea. We refer to that idea as the North Star so that we can always refer back to the initial design intent throughout the process, which might sometimes take six to nine months from beginning to end.
Q: What is unique about this property?
A: The row of arches is one of the first things you'll notice when you walk inside the restaurant. I have a thing for repetition in a room. If you create one arch, it must be very large and serve as a feature. However, repetition of anything, including artwork and design elements, creates an extremely powerful impact. In addition they are obviously very popular right now too, so it's that combination of trying to make a space that feels very relevant, but that is still speaking to, you know, these places that have been designed years and years and years ago.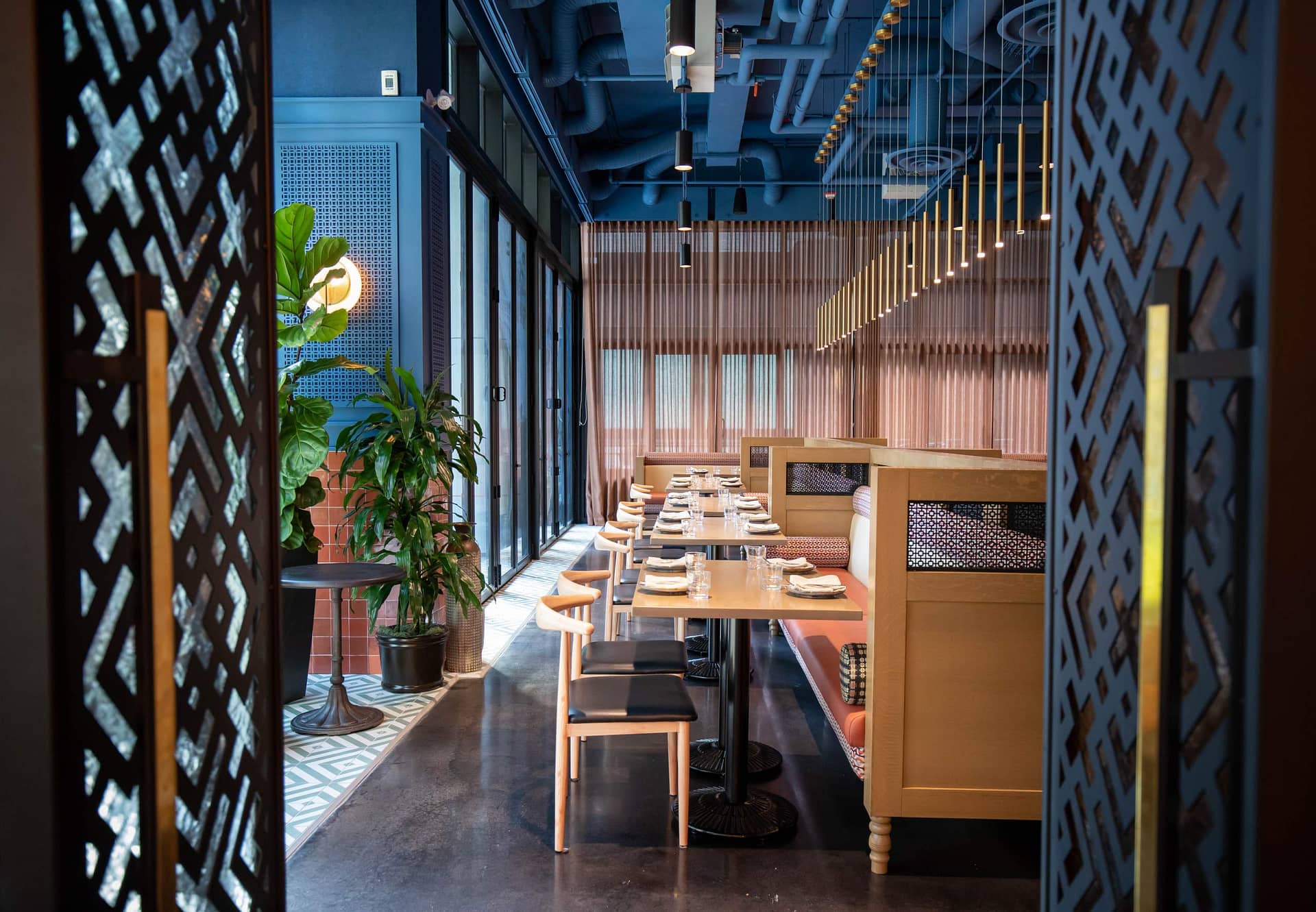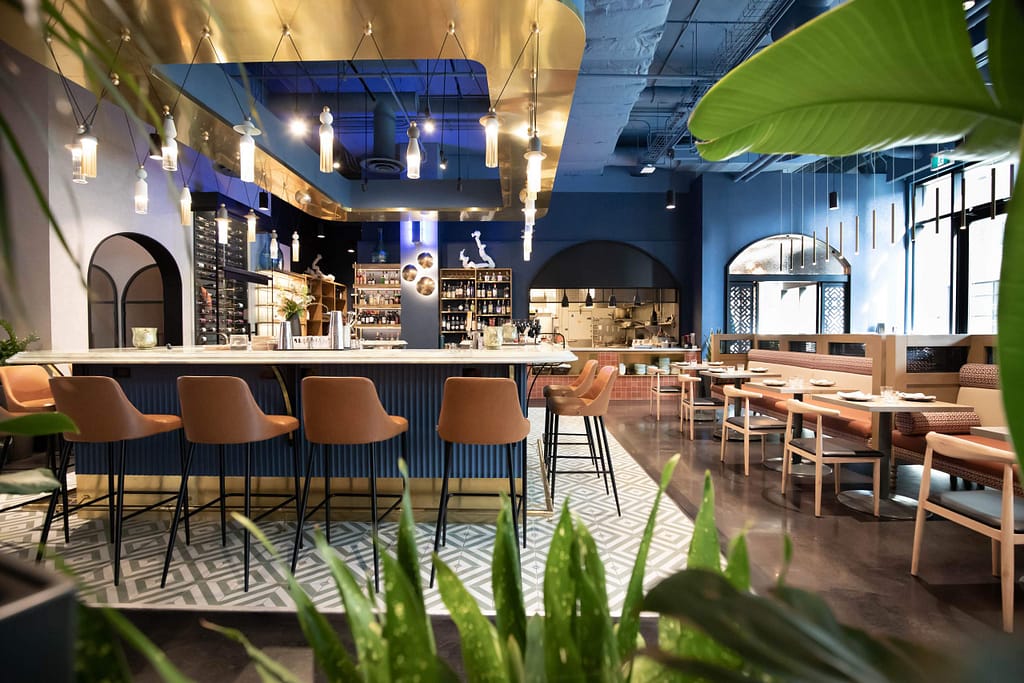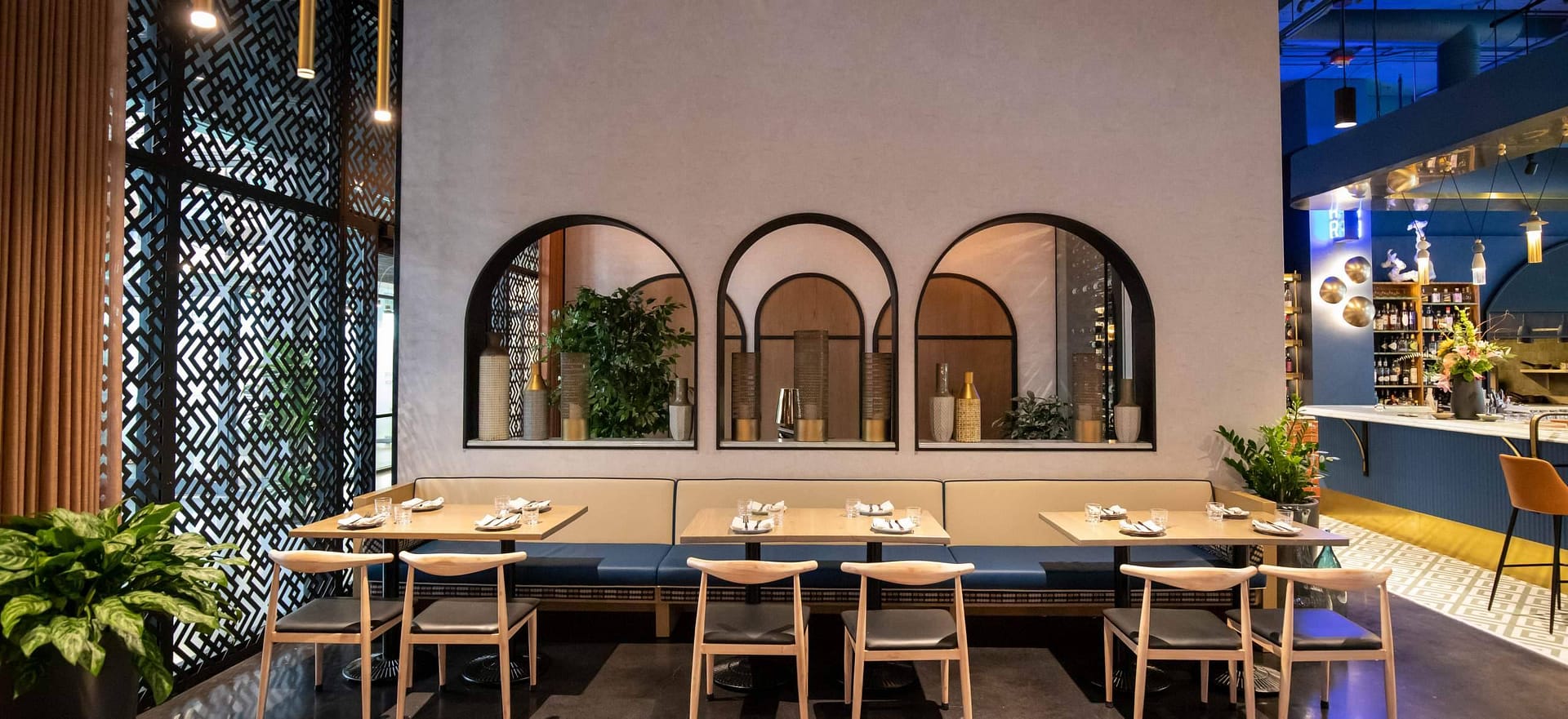 Q: Tell us more about the project's challenges?
A: The client had a clear vision of having a central U-shaped bar and while it's not always the most effective use of space to place a bar or a kitchen in the middle of a restaurant, we loved the concept which creates a heart of the space.
Q: Tell us more about the used materials?
A: When designing a place that draws inspiration from both sort of antiquated elements from the past and then developing modern elements, one thing to keep in mind is that you really want to mix materials and make things really engaging. Layering materials is one of our favorite activities. As an example, instead of having a single wood tone across the room, the tables are made of a warmer wood, while the chairs are made of a blonder wood.
We also enjoyed combinations of metals. However, we used a lot of brass in this area. We then came up with this really amazing light fixture above the bar, which again kind of appeals to that old world charm with the brass in the tassels but is done in a really contemporary way. As a result, there are tiny hints of it in the lights and there are touches of that throughout the bar.
Q: How crucial was light?
A: We prefer to consider the lighting while choosing a set of furniture. We look at lighting like at art, right? They are in fact these incredibly lovely sculptures that give a space definition. As a result, they not only serve a practical purpose but also significantly enhance the room's aesthetics. So when we think about lighting, we should consider wall sconces, up lights, down lights, and general lighting. There are several distinct types of lights in this space. Naturally, I've mentioned the bar. The tassel lights over the bar are beautiful. That was actually done to anchor the area. The benefit of lighting being dropped from the ceiling is that it draws boundaries. You can do that with furniture, walls, and lighting in addition to those other things. You'll see that we've run linear pendents on the banquettes and in a few of the seating locations. There's that repetition that's coming up. That creates a much stronger design intent, than just a few pendant hang here and there. The room also has these really lovely, artistically designed sconces that cast lovely light. You're not just hanging meaningless paintings on the walls. Lighting fixtures in this space truly are the wall art, and they also draw attention to some of the room's architectural features.
Q: What deco elements do you think enhance the space the most?
A: I have always liked placing plants in my designs. They just flood the space with light. We enjoy real plants of course. They somehow transport you because of some inexplicable essence.
The banquettes are another one of the elements that we really, truly appreciated in this restaurant. The banquettes have unusual embellishments on the back of them with screen accents and small leg details, as well as various patterns, colours, and mixtures of leather and vinyl.
Q: How should the customer experience the design?
A: You want the person who is dining to experience the restaurant interior design and thermosphere of this restaurant on a really micro-level. You don't want them to just be looking at the entire space; you want them to also be looking at their table and the items next to them, noting and soaking in all the smallest details that do really create a unique experience of the space.